The healthcare system would be caring for a lot of additional COVID-19 sufferers in the coming months, with incidence counts in NSW set to spike in the following 2 weeks.
Health care is stressed being stressed as the Delta variety rages over New South Wales and Victoria. A worried, anxious, and overworked crew lurks behind curtains.
Frontline Health Professionals Are Already Tired By COVID
Thus far, what have healthcare employees had to cope with? It is not a story of a single day but a regular sequence that repeats daily. They have to work with the same type of patients with the same level of danger that may take their life also.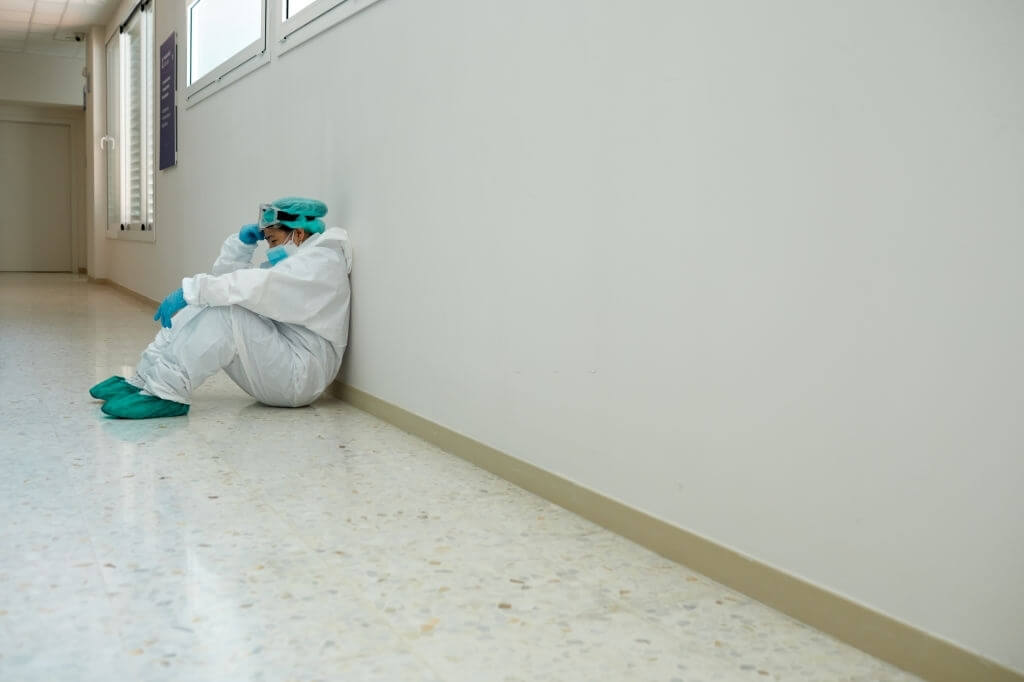 This leads to mental frustration and trauma for many of them who work at various centers.
Wellness personnel has indeed been preferentially afflicted during the epidemic, typically as a result of viral contact at the workplace. Worryingly, 70.9 percent of our 7,846 participants experienced mental weariness, and 40 percent exhibited mild to severe post-traumatic distress signs and disorders. We discovered that the epidemic had put a severe toll on the psychological wellness of healthcare personnel, with many showing signs of psychological disease.
We spoke with Medicare personnel about the major stressors they faced while work throughout the epidemic. Those are the following:
Continuous personnel and professional change, such as redeployment or extended, unpaid days. Those who were severely impacted are more prone to suffer from psychological illness.
Concerns regarding providing the greatest possible treatment to a patient, as well as the psychological toll of care for sick people and families whenever patients were killed alone as a result of visitation limitations.
getting criticized by colleagues and putting further pressure on them as they were introduced to or afflicted with COVID-19 & are unable to work as a result.
Not unexpectedly, we discovered that many healthcare practitioners were considering quitting the field.
What has happened since then?
The sheer quantity of potential contact sites, notably those in or near healthcare institutions, is a significant source of worry. For health-care professionals, contact with the infection is extremely disrupting, resulting in a loop of COVID-19 screening and a 14-day sabbatical. None of these concerns has indeed been addressed. Health personnel was under much more strain.
Quarantining has far-reaching consequences. How do you balance caregiving for your kids, the effect on your spouse, and the remainder of the overworked population needing to stand up to do their work on little or no notification?
Hundreds of employees could be fired from the wellness system in terms of a single exit side.
This implies there is no waste in the process if we have to substitute staff on short notice. As a result, some healthcare facilities may have to be cut. We don't possess an endless number of healthcare professionals. We'll also need more people to work in health-care settings like COVID-19 screening centers and immunization centers.
How will our health infrastructure be capable of dealing?
COVID-19 has highlighted a need to repair existing "cracks in the system," according to healthcare workers in our study.
As one respondent, a psychologist in her 40s, explained: "Things that were not going well, and had been neglected, have been made worse. Rundown buildings, casualized workforces working across multiple hospitals, stretched services covering multiple wards, a culture of 'toughing it out".
Encouraging wellness employees and safeguarding them from stress, work overload, and weariness is an important part of equipping the healthcare system to react to emergencies such as epidemics. If we do not act quickly to address those concerns, we fear losing our most important resource in the health care system.