According to a new poll, one-fifth of American parents with children eligible for COVID-19 vaccinations claim they will not vaccinate them under any circumstances. According to a study conducted by the Kaiser Family Foundation, another 23 percent of parents said they would vaccinate their children eventually, but not right away.
88 percent of parents of children who have not been vaccinated believe that there is not enough information available regarding the shot's long-term consequences. 79 percent are concerned about the immediate effects of the medication. 73 percent of respondents are worried that it will influence the fertility of their children. According to the poll results, there is a strong link between parents' vaccination status and their opinions about their children's immunization. 
Physicians Warn Parents Who Are Bringing Their Young Children For The COVID-19 Vaccination
Approximately 60% of vaccinated parents report that their children are likewise vaccinated, but just 4% of unvaccinated parents claim they obtained the vaccine for their children. As a whole, 41 percent of parents with children who are eligible for the vaccine have taken care of their children with it. This represents an increase over the previous month's figure of 34 percent.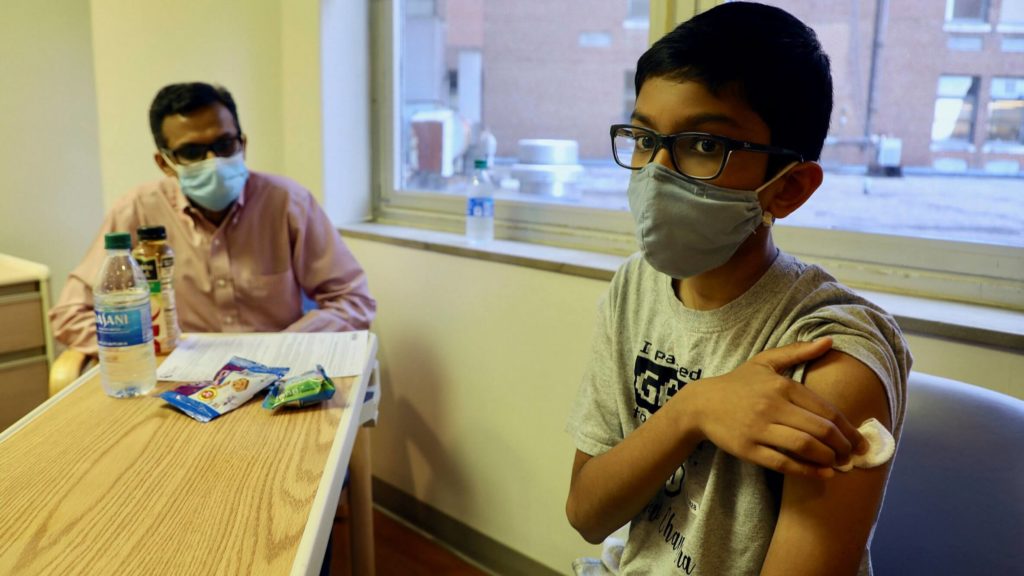 The timing of the most recent COVID-19 outbreak is not favorable for youngsters. Millions of students have already begun the school year, and the remaining students will do so in the following weeks. COVID-19 vaccinations are not yet accessible for the 50 million students in the United States who have not reached the age of twelve.
Mimi Allen is the mother of two children, ages 14 and 10. She is the sole provider for them. They are the center of her universe. So, even though the Phoenix financial adviser is not known for violating the rules, she recently decided to go into a nearby pharmacy and acquire her younger daughter a Pfizer COVID-19 vaccine, which is currently restricted to people aged 12 and older. Allen explained the idea to her immunocompromised daughter, lied about her child's age at the counter, and walked out feeling relieved and satisfied.
She claims that she is a mother who is concerned about the safety of her children and that if the governor of this state had ordered that masks be worn at school, she would have felt differently. Allen, 55, expressed apprehension about disclosing the identities of her daughters for fear of retaliation. She claims to be a person of high moral character. However, after her kids, her first worry is for herself. If they acquire it and spread it, and she ends up in the hospital or dies, her children will be in grave danger. Allen's predicament is mirrored by millions of other Americans who, when schools reopen, consider the best approach to keep their vaccine-ineligible children safe. At the same time, the Delta strain virus continues its spread, and some state officials oppose mandatory in-school masks.
The decision to provide the vaccination to a kid under the age of 12 presents both medical and ethical concerns, and it can elicit explanations that range from understandable to implausible. Children with underlying problems, among the former, deserve a chance, especially in light of the alternative. The latter: because so many people are refusing the vaccination, it is better to provide a dose, but doses are still required for at-risk adult holdouts.
When asked for their opinions, doctors and ethicists agreed that, while the desire is natural, administering the COVID-19 vaccination to a young kid has dangers that may exceed the advantages. As Dr. Sean O'Leary, an infectious disease expert at Children's Hospital Colorado in Aurora, put it, she understands that people are anxious. Still, she believes that this does not warrant defying the rules. The safety of the patient is the most crucial consideration while administering any vaccination. In addition to being a member of the American Academy of Pediatrics, O'Leary is the CEO of the American Academy of Pediatrics, which recently urged the Food and Drug Administration to expedite approval of vaccines for children under the age of 12 by leveraging data that is currently being compiled from ongoing trials.