MD- in the face of rising Covid-19 infections in the USA, Krispy Kreme has doubled up their free doughnuts incentive for vaccinated individuals.
Krispy Kreme had earlier started a scheme where vaccinated individuals could get one free doughnut at any of their locations. But as Covid-19 infections start to rise in the USA once again, Krispy Kreme has now increased their vaccination incentive.
Between the 30th of August and the 5th of September, any individual with both their vaccination completed will get two free doughnuts at any Krispy Kreme location.
Krispy Kreme Vaccination Incentive Doubled Up Free Doughnuts Incentive
The original Krispy Kreme vaccine incentive in March of one free glazed doughnut for fully vaccinated people was one of the first commercial vaccine incentives initiated in the United States. Since then many other popular brands have taken a similar route.
Since March, Krispy Kreme claims to already have given out 2.5 million free doughnuts. Their original incentive offer will continue till the end of this year.
Dave Skena, the Chief Marketing Officer of Krispy Kreme has once again publicly stated their enthusiasm for the vaccination process. He mentioned that they had all believed that the USA would be ahead of the pandemic curve by now, but that has not yet happened. So he encouraged Americans to get both their doses of vaccines and enjoy their two free Krispy Kreme doughnuts.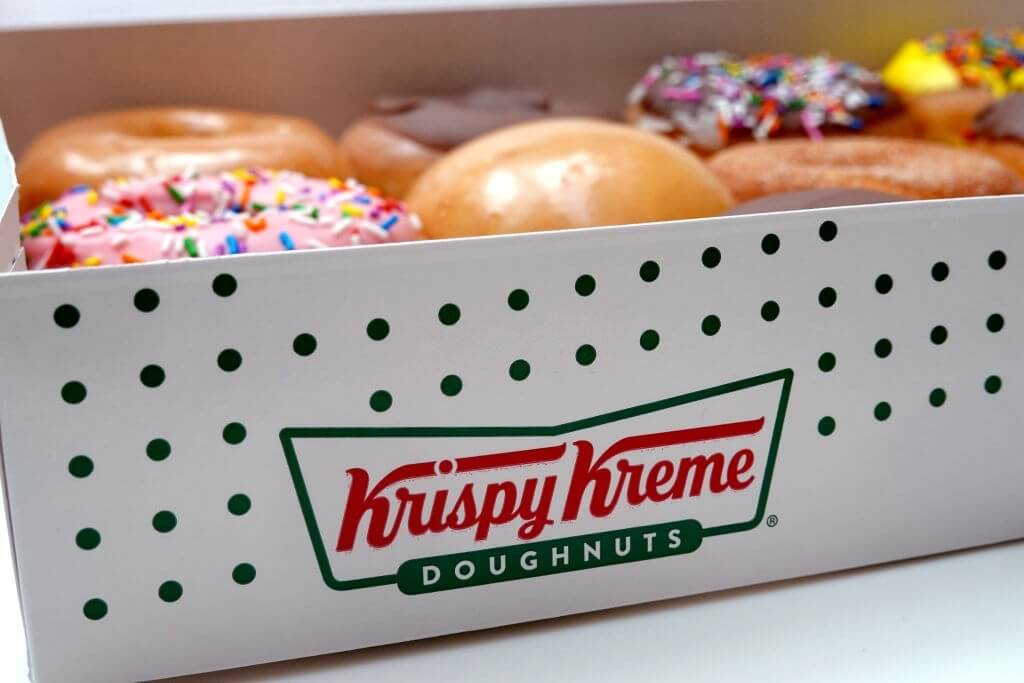 In recent months, incentive schemes like free food and cash prizes introduced by different companies all across the country; have become an important motivating factor for people to get vaccinated.
Just last month US President Joe Biden had asked local officials and state legislators to give $100 as incentives to their residents to incentivize them to get their vaccination completed. New York City, one of the populous cities in the United States is already giving $100 to anyone NYC resident who is getting a vaccine from any vaccination center run by the city.
These incentives are all being hiked up now to combat the deadly delta variant of the virus which is ravaging the country at present. After a period of relative decline in a number of cases, the delta variant of Covid-19 has once again led to a huge spike in Covid infections all over the country.
In this situation, incentives are looking more and more like an important encouragement for the vaccination process. A study recently conducted by UCLA asked responders about their attitude to vaccination incentives. In the study, it was found that nearly 33% of unvaccinated people believed that a $100 cash incentive would make them take the vaccines.
The US federal government is pushing vaccinations very hard at present. According to CDC to vaccination is the only fool-proof method to curb the spread of infections. USA is also in discussions to introduce a booster vaccine dose along with implementing a vaccination regimen for children between the ages of 12 to 18.
The entire world is at present struggling with the Covid-19 pandemic and every government is trying to find some measures which will help boost vaccination rates in their country. In the USA commercial incentives are proving to be a good method to reduce vaccine hesitancy.
The government is also encouraging different corporate enterprises to start introducing vaccine mandates for their employees. These mandates are also working well to push up vaccination percentages in different states of America.
America is still very far from managing the pandemic. Infection hotspots are springing up in different parts of the country. But if the present push for vaccinations continues steadily for a few more months, then America may soon be able to reach herd immunity levels which doctors and experts have explained is the primary objective of the nationwide immunization process.