Meet Julia Marino, The First Medal Winner Of Team USA At Beijing Winter Olympics 2022, Julia Marino Bio, Career, Relationship, Net Worth, Height And Weight . Julia Marino, the snowboarder becomes the first athlete to earn a medal for the USA at the Beijing Winter Olympics 2022. Julia Marino earned her silver medal in women's slopestyle by earning an impressive score of 87.68.
Zoi Sadowski-Synnott of New Zealand secured the gold medal in the competition and Tess Coady of Australia secured the bronze medal in the competition.
The last 2018 slopestyle snowboarding game of the Winter Olympics was difficult for these women because of the windy and treacherous climate but this time the weather was favorable for the competition.
Julia Marino: Bio, Career, Relationship, Net Worth, Height And Weight
A remarkable moment of the competition was when Marino and Coady hugged Synnott when she made her final run and the three women cheered for each other, which shows the sportsmanship of the athletes.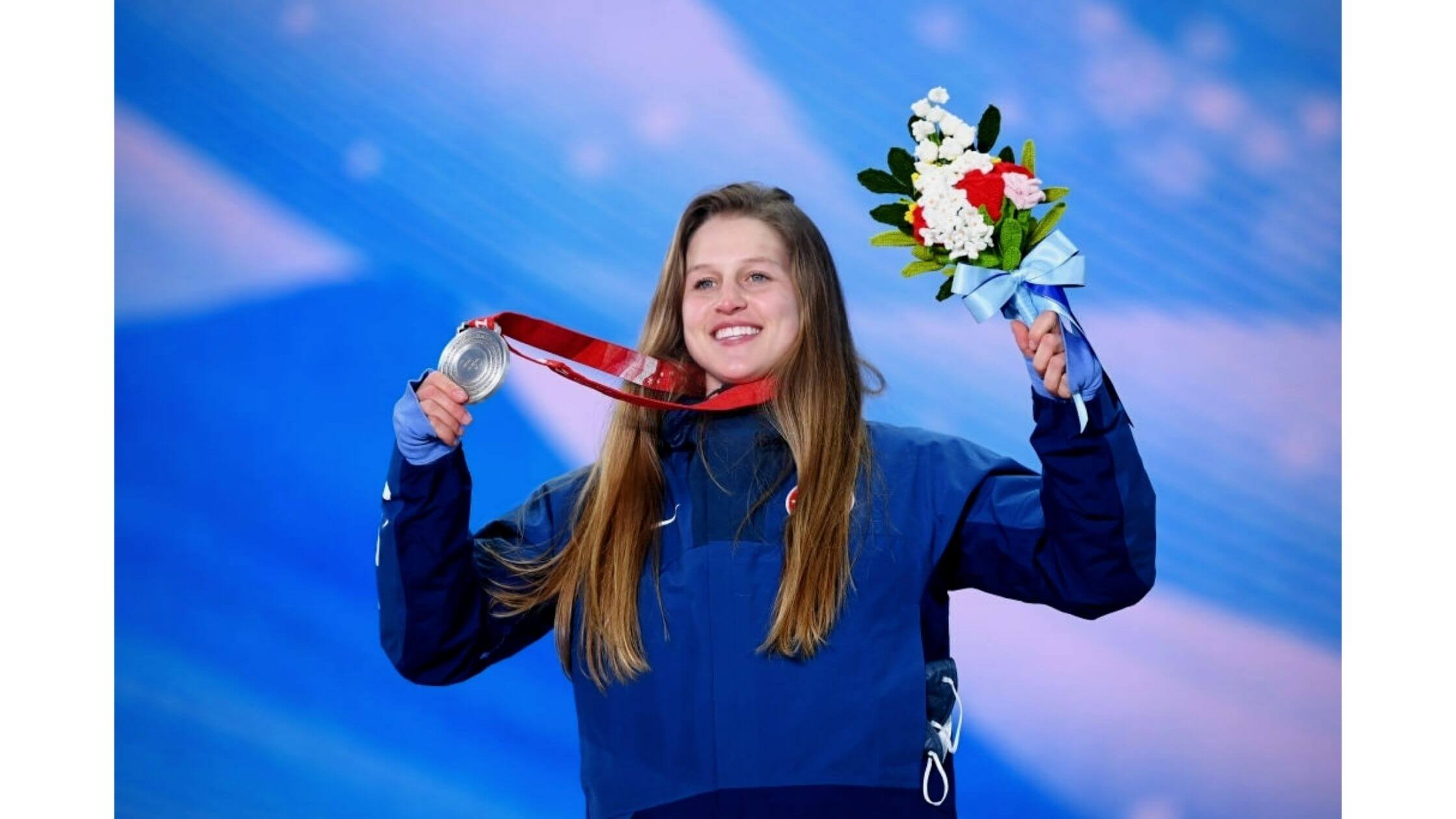 This is the first medal of Marino in the Olympics and the athlete said that she is "over the moon".While interviewing Marino after the contest she said, "There's so much emotions. It's pure excitement and happiness.
It was a great day. The weather was perfect, the course was perfect. I couldn't have asked for a better finals. That's how it should be at the Olympics". She also added, "This hugely makes up for 2018, This was four years of redemption" referring to the windy condition of the game at PyeongChang, 2018. Marino finished only in the 11th position in the 2018 game and this game is a 'turning table' event for Maurino.
Julia Marino Biography
Julia Marino was born on September 11, 1997, and is 24 years old. Maurino was born in Westport, Connecticut, United States, and was raised by her parents Sharon Marino and John Marino who were very supportive of the athlete's passion for snowboarding.
Maurino trained herself to become a snowboarder at a very early age. Maurino completed her schooling at St.Joseph's High School, Connecticut, and did well in her education.
Julia Marino has two siblings, Cece Marino and Peter Marino. Julia Marino's nickname is Jules and her zodiac sign of Virgo. Julia Marino is of white caucasian ethnicity. Marino is currently living in New York.
Julia Marino Career
Julia Marino had an interest in snowboarding at a very young age and currently, is one of the finest boarders of the United States. Maurino competes in both Slopestyle and BigAir disciplines.
As a newbie in snowboarding, Maurino won gold in Slopestyle and bronze in BigAir at the X Games held at Aspen's Buttermilk Mountain in the year 2017. This was the first milestone of Marino as a professional and successful snowboarder. In the year, she became the first woman to win two medals at the same games in 17 years.
She also became the first woman to land a cab 900 underflip in women's Slopestyle at X Games in the year 2017. She won 4 medals in the X Games.
Marino's debut Olympics was in 2018 at PyeongChang but the athlete wasn't able to show impressive performance in 2018. In 2022, she won the silver medal in women's Slopestyle at Beijing Olympics.
Julia Marino Relationship
Julia Marino is dating Jeremy Langevin, who is also a snowboarder and freestyle coach. Julia Marino and Jeremy Langevin started dating in 2017 and are still in a happy relationship. Marino's boyfriend, Langevin is also the owner of Haubans Creation Trails Building.
Julia Marino Net Worth
As of the latest reports, Julia Marino has an estimated net worth of 900k US dollars. After her first win in the Olympics, her net worth is likely to increase in the coming years
Julia Marino Height And Weight
Julia Marino stands at a height of 5 feet 5 inches and weighs around 122 lbs. As an athlete, she takes good care of her body and health. Her hair color is dark brown and her eyes color is brown.