USA's First Beijing Gold Medal Goes to Lindsey Jacobellis; The Oldest American Woman To Ever Win Olympic Gold Medal; Lindsey Jacobellis Bio, Personal Life, Net Worth. Lindsey Jacobellis is an American snowboarder who became world champion five times and X Games champion ten times. She became the first American gold medalist at the 2022 Winter Olympics conducted in Beijing.
Lindsey Jacobellis made history and became the oldest American woman to ever win Olympic gold medal. The record was previously held by Kikkan Randall, and she has won gold in cross-country skiing in the 2018 Pyeongchang Olympics at her 35.
After winning a gold medal, Lindsey Jacobellis said, "This feels incredible because this level that all the women are riding at is a lot higher than it was 16 years ago.
So I felt like a winner just that I made it into finals because that's been a challenge every time. All these ladies had the potential to win, and today it just worked out for me the starts were good, my gliding was great and everything worked for me today".
Lindsey Jacobellis Finally Did The Thing The World Has Expected Her To Do!
Lindsey Jacobellis is a five-time Olympian in the years 2006, 2010, 2014, 2018, and 2022. She has also won Olympic medals two times, one gold and one silver.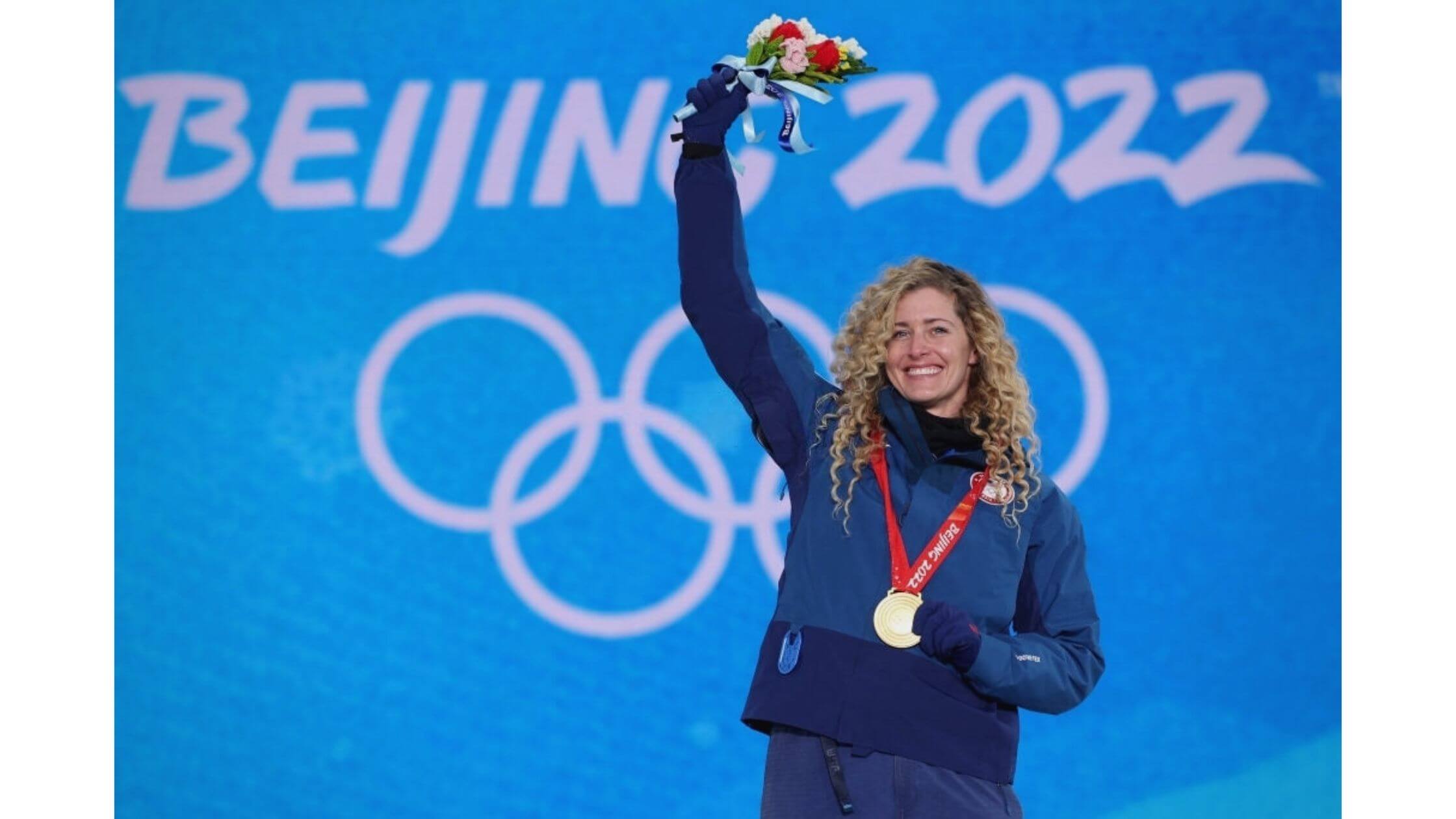 In the 2018 Olympic Winter Games conducted in PyeongChang, she completed as fourth in snowboard cross. In the 2014 Olympic Winter Games conducted in Sochi, she completed as seventh in snowboard cross.
While in the 2010 Vancouver Olympic Winter Games, Lindsey Jacobellis completed as fifth, and in the 2006 Torino Olympic Winter Games, Jacobellis won the silver medal in snowboard cross.
The 2006 Torino Olimpic Winter Games was her Olympic debut and she had made her first Olympic final. Apart from being a sports person, Lindsey Jacobellis also appears on television on a charity edition of 'The Challenge: Champ vs. Pros" on MTVs. also, she is sponsored by Paul Mitchell and is known for her curly hair.
In Beijing, she quotes, "Belle (Brockhoff, of Australia) came to me after the race and she's like, I'm so happy this happened for you because I was little when I watched you in 2006.
If you look at the start list, I was in high school when some of these girls were born. People can keep talking about all they want because it really shaped me into the individual that I am and kept me hungry and helped me keep fighting in the sport".
Lindsey Jacobellis Personal Life
Lindsey Jacobellis was born on August 9, 1985, in Danbury, Connecticut to Ben and Anita Jacobellis. Primarily, she was a skier, but later she switched to snowboarding at the age of 8.
Regarding her siblings, Lindsey Jacobellis has a brother, Ben, who was a professional snowboarder. She participated in her first X games at the age of 15 and some favorite hobbies of Lindsey Jacobellis include surfing, sewing, cooking, and gardening.
Lindsey Jacobellis Net Worth
Lindsey Jacobellis is a complete sportsperson and her revenue is only from sports. As per reports, the net worth of Lindsey Jacobellis is estimated to be $1 million.