Kourtney Kardashian and Travis Barker married for the third (and likely final) time this weekend on the beaches of Portofino, Italy. The multi-day event brought lots of grandeur to the Italian Riviera and plenty of Catholic cosplay.
The Kravis festivities were "hosted" by luxury labels Dolce & Gabbana, raising the bar for sponsored celebrity nuptials. The costumes were Dolce & Gabbana (as were those worn by other KarJenner family members), there was a D&G pop-up shop for visitors to peruse, and the wedding ceremony was placed at a property owned by the Italian label. What's at the heart of this commercialized marriage? What will most certainly be remembered as the Kardashian-ification of the Catholic Church?
Kourtney Kardashian And Travis Barker Slammed For Mocking Virgin Mary
Let us begin with the clerical attire. The bride-to-be donned an all-black antique short dress with a colorful Virgin Mary insignia on the bodice and a gothic veil to their pre-wedding party. Barker wore a long black garment that resembled traditional Roman Catholic priest clothing.
Kardashian wore another D&G short dress (this time white) and a trailing lace veil with a huge, elaborate embroidery of the Virgin Mary on their wedding day. The design seems to be inspired by Barker's head tattoo.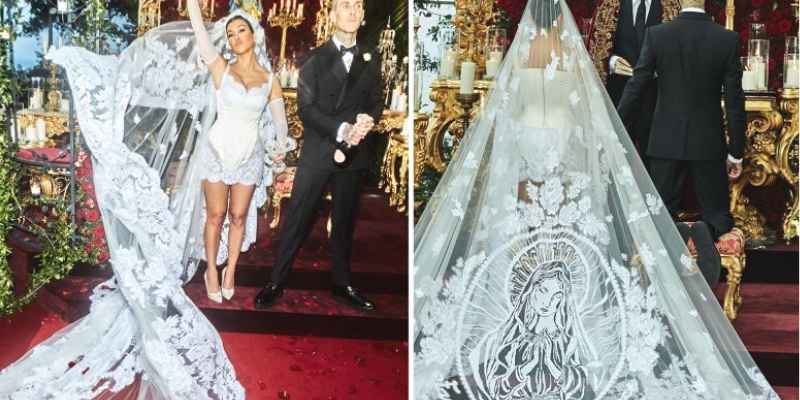 Sisters Kim and Khloé got the subversive Catholic memo as well. Both were dressed in black lace gowns and accessorized with big giant crosses. Khloé was accessorized with a beautiful gold headpiece that evoked the holy concept of a halo crown. A statue of the Virgin Mother and Child was enclosed by a gold shrine and extravagant candelabras on the couple's gothic-themed altar.
While Barker is a practicing Catholic, the Kardashians are not. Kris Jenner does, in fact, have her own (non-Catholic) church, the California Community Church, which has been criticized for its exorbitant membership costs and allegations that it is a tax write-off. The Kardashians are obviously not devoted Catholics.
Kourtney Kardashian And Travis Barker's Wedding At Catholic Church
The significant emphasis on Catholic imagery seemed to be an aesthetic choice rather than a theological one for a wedding that served as marketed material. The Kravis wedding appears to be a performance of Catholicism, with its colorful decor, rich accessories, and gothic overtones.
Some say it's "offensive and repulsive," while others say it "mocks the Catholic religion." The entire event felt like a religious performance, especially when you consider that it was hosted by a premium business known for selling Italian Catholic aesthetics.
Dolce & Gabbana are noted for their Southern Italian-inspired designs that are opulent, tactile, and colorfully mismatched, despite its history of racism, sexism, and homophobia. Since the fashion house's inception in 1985, creative directors Domenico Dolce and Stefano Gabbana have imbued the brand with traditional idealized Italian iconography, including Catholic symbols and themes. Dolce & Gabbana is the brand to wear if you want to cosplay authentic Italian culture and religion.
The irony of a "Catholic" wedding sponsored by a premium fashion business should not be overlooked. The Kravis wedding, however, is hardly the first time the wealthy and famous have drawn aesthetic inspiration from the Catholic Church.
Consider the Met Gala's 2018 theme, "Heavenly Bodies: Fashion and the Catholic Imagination." The Vatican collaborated with the Metropolitan Museum to create the show, which featured Catholic iconography-inspired creations (including work by D&G). And the event itself attracted celebrities dressed in conventional Catholic attire – who can forget Rihanna as the Pope? Catholicism has long been mentioned in popular culture and art.
READ MORE:
Travis Barker and Kourtney Kardashian have been consistently rapping punk rock clothes since they began dating openly, and their wedding leans into another trendy if contentious, trend: subversive Catholic aesthetics. Dolce & Gabbana appeals to ultra-wealthy, exclusive consumers by using Catholic iconography.
The brand has mixed fashion and religion and leveraged their respective characteristics of performance, impact, and controversy via its own confusing history. After all, what is more characteristically Kardashian than that?