On Tuesday, Kim Kardashian attended an interview with Jimmy Fallon on The Tonight Show. The Skims businesswoman Kim Kardashian was interrupted by her kids during her interview. She reacted and asked to stop them at that moment.
She urged them that it was their first work with her. Soon she paused her interview and explained to the audience that her two boys were there and making so much noise. She asked her sons not to mess up.
Kim Kardashians Mom Version On The "Tonight Show"!
The mother of two sons attempted to settle back into a chat with Jimmy Fallon four times. Then she was compelled to command them to go. The younger son of Kim Kardashian named Psalm was taken out of the studio for making noises.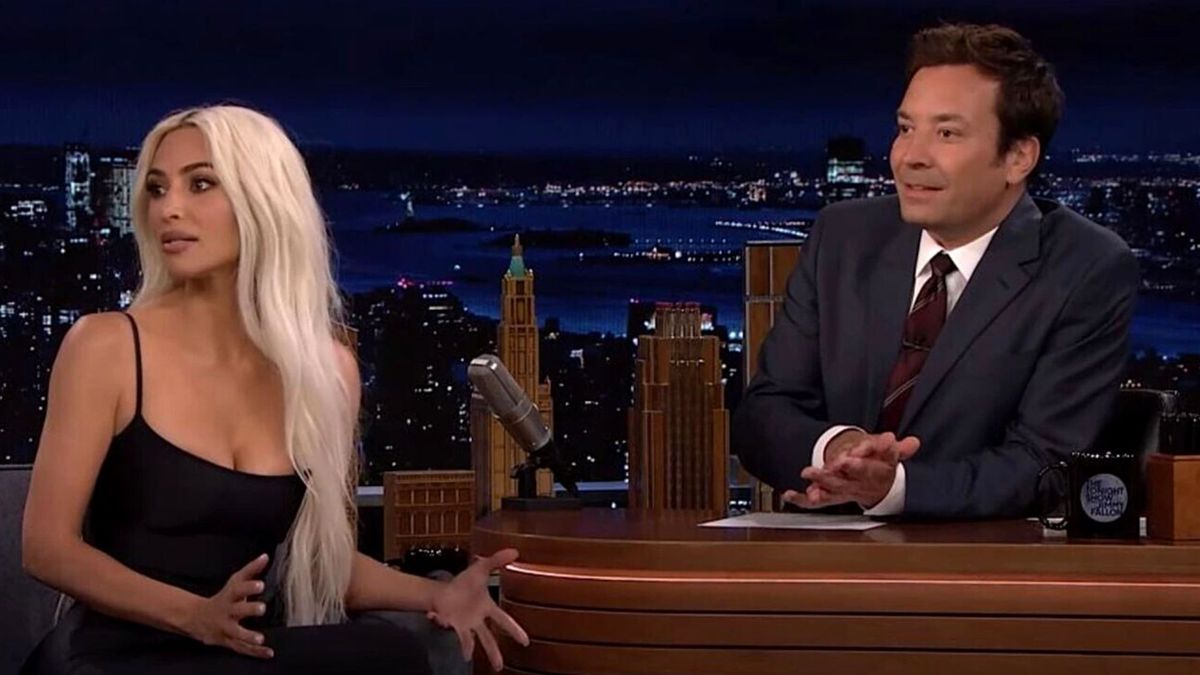 Why Was Kim Kardashian Invited To The Tonight Show?
Kim Kardashian was invited to The Tonight Show to promote her new skincare line SKKN. For the first time, she attended the interview with her two sons, named Psalm (three years old) and Saint (six years old). They were suggested to sit in the audience.
During their interview, Jimmy Fallon pointed out that he heard noises from kids. At that moment Kim whipped her head and yelled to her kids. After the incident, audiences started laughing and 'aww-ed' at the adorable kids.
Later, Psalm was instructed to quit the show as he was making noise continuously. Saint stayed there with her friend Remi. When Jimmy Fallon in a different way begged Saint for his cooperation, the reality star said to her son that she was doing a good job.
What's Kardashian Saying About Her Skincare Products?
Kim Kardashian gave all the credit to Kanye West for helping her to create the product. There is confusion about whether Kanye and Kim were married or not. But they decided to continue their partnership in their business.
To launch her skincare product SKKN Kim Kardashian took the social media platform, Instagram to share the initiative of her rebrand. She revealed that she did not do the work alone. Her ex helped her to do this, even without his help she couldn't have done this.
On her Instagram account, she wrote that her creative process wouldn't have been complete without Kanye. She always gives credits where credit is due. She continued that Kanye came to her with his entire team and introduced her to them.
Kanye explained to them all his ideas regarding the product like the packaging, font, and shapes. According to the ideas he executed his plans. Kanye suggested taking a look at the packaging first. Skims founder Kim Kardashian agreed with him.
Kim Kardashian Shared The Reason For Rebranding Her New Line
one year prior, Kim Kardashian announced herself as single and removed her married surname. She declared that she would shut down her KKW Beauty and KKW Fragrance websites and rebrand them. As a reason, she said that it was about streamlining her empire.
Kim also said that she wanted to make it easier for fans to purchase as the shipping charges were different at three different websites.
Read More