Hey readers, This article talks about The Top 5 Bariatric Wheelchairs. Bariatric patients require smart monitoring for effective treatment. Buying a wheelchair for the same requires you to research well. Fortunately, there are many wheelchairs available in the market that are specially designed, equipped, and staffed to provide support, monitoring, rehabilitation, and the treatment of an obese patient. So how to go about it?
5 Best Bariatric Wheelchair: Which One Is Worth Buying To Your Needs?
To ensure that obese people are able to perform their tasks more conveniently, we bring to you the top five wheelchairs in the Bariatric wheelchairs category.
---
Product List
Paramount XD Bariatric Manual Wheelchair by Everest & Jennings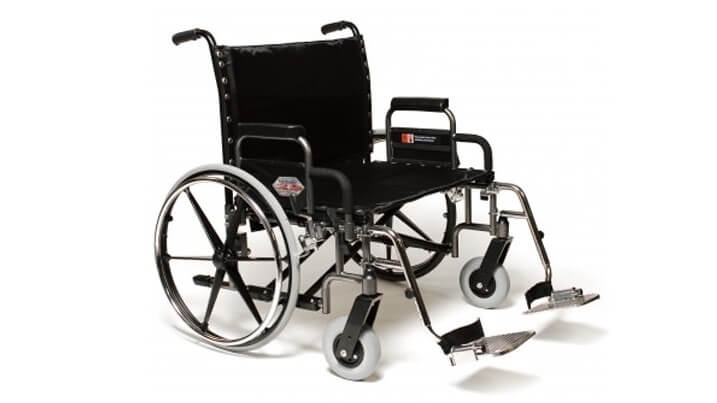 Features and Benefits:
This wheelchair comes with 26″ and 30″ seat width and weighs a 650 lb capacity. The dimensions of the front casters and rear wheels are 8″ x 2″ and 24″ respectively.
Covered with a black Nylon upholstery, this wheelchair features 1″ tubing. The armrests are padded and are of desk length. The front rigging is adjustable, allowing the user to adjust the length without tools.
During rest, the wheels can be locked and unlocked with an easy-grip handle. Additionally, the seat depth is 19.5". The Paramount XD Bariatric Manual Wheelchair comes with Everest & Jennings five-year warranty. Footrests are removable.
Pros
This equipment turns out to be amazingly well with its dual leg rest adjustment option. You can either opt for swing-away removable footrests or elevating leg rests. Moreover, the design comes with dual cross-braces on a reinforced frame at all critical load-bearing points which offers special support. The seat width has also been increased to withstand the weight.
Cons
The extra-deep 19.5″ seat depth can be a problem if someone with a heavy body sits and wishes to get up. Since it has a heavy-duty steel frame, it might not be very portable or easy to carry. Care needs to be taken to prevent it from rusting.
---
Reclining Bariatric Regency 525 Wheelchair by Graham Field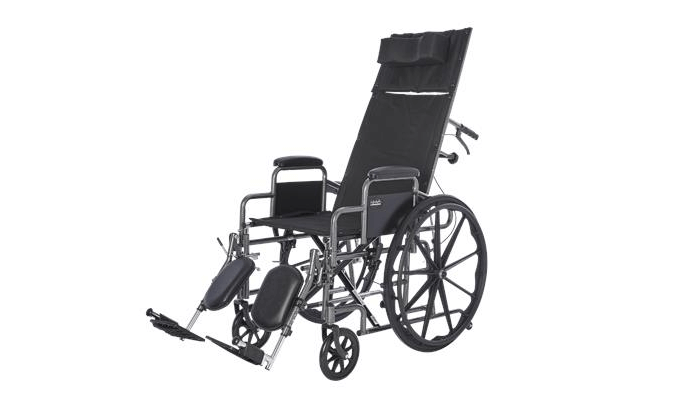 Features and Benefits:
Reclining Bariatric Regency 525 Wheelchair is for those who prioritize comfort over a fancy design. This one weighs 525 lbs and has a seat depth of 20". The chair reclines up to 45 degrees and comes with a full-width push bar. The seat has adjustable tensioning straps.
This wheelchair allows you to adjust the seat width depending upon how obese the person is and comes in the dimensions 24″, 26″, 28″, and 30″. There are dual arm choices-desk-length or full-length. Seat to floor height can also be customized to either 15.5″ or 17.5″. The seats are heavy-duty Nylon-based.
Pros
This wheelchair prioritizes the patient's comfort over and above everything. Whether it be the reclining backrest, adjustable straps, or low seat-to-floor height, everything has been offered to ensure proper positioning and posture while working. Its pneumatic assist design enables the chair to return to its initial erect position quickly.
Another unique advantage is the option of one-handed and two-handed grip options for smooth transport by caregivers.
Cons
One problem about the wheelchair could be the non-provision of a separate headrest. Moreover, the armrests are non-cushiony so resting hands for a long time could be inconvenient.
---
Bariatric Sentra EC Heavy-Duty Wheelchair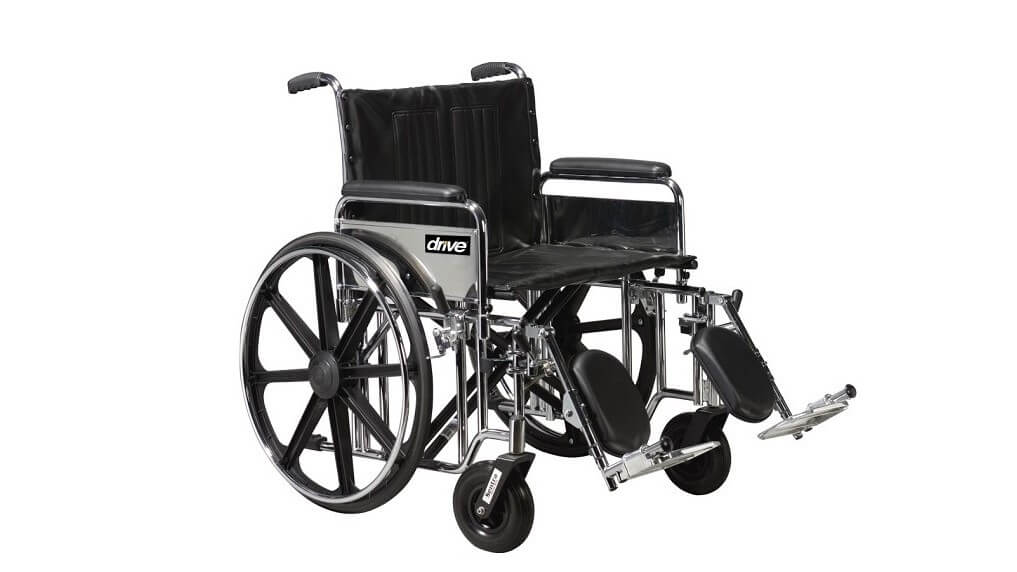 Features and Benefits:
This sturdy and durable wheelchair features Urethane tires mounted on composite wheels and a Carbon Steel frame, aimed at providing low maintenance and durability. Weighing 450 lbs, the wheelchair has aluminum footrests that have a swing-away and elevating option along with adjustable length riggings. The triple-coated chrome has been designed for an attractive, maintainable, and chip-proof finish.
The push-to-lock wheel locks and padded armrests give off a comfortable feel. It has a standard dual axle and 8″ front casters, adjustable in three positions. It also has sealed, precision bearings.
Pros:
The design provides an easy transition of seat to semi-level. Further, the double embossed vinyl upholstery in the wheelchair makes it extremely durable, attractive, lightweight, and easy to clean. It can be repeatedly used with little maintenance.
Cons
You need to buy additional accessories to avail of certain features like heel straps, lock extension, and anti-fold bars.
---
Bariatric Sentra EC Heavy-Duty, Extra-Extra-Wide Wheelchair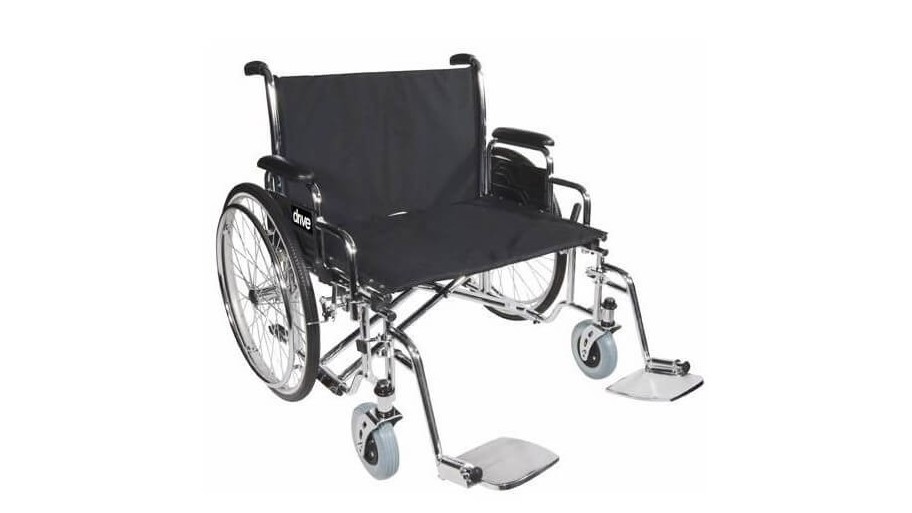 Features and Benefits:
The said wheelchair is designed to have enforced steel gussets at all weight-bearing points. The facade comprises a carbon steel frame with triple-coated chrome for a chip-proof, attractive, and maintainable finish. There is a durable reinforced nylon upholstery coupled with steel, spoke wheels. Extra-large, padded armrests provide greater comfort and support. Having a capacity of 700 lbs, the heavy-duty, flat-free 8″ front casters of this wheelchair are adjustable in two positions.
Talking about the riggings, the extra-large, aluminum heavy-duty footplates ensure support and give off an attractive and crack-proof feel. This wheelchair carries precision sealed wheel bearings on the front and rear which increases its life. Apart from this, extra-heavy-duty front forks, a side frame, dual crossbars, and caster journals also come along with the equipment. Like the above model, this wheelchair also features push-to-lock wheel locks. Seat to floor height-19.5″ and seat depth is 20".
Pros
The wheelchair requires little maintenance and is long-lasting. It has a detachable desk arm and a full arm armrest so can be customized according to the needs. It comes with ample accessories for a memorable experience.
Cons
There's a limited lifetime warranty and the accessories have to be bought separately. There are limited shipping options.
---
KM-BT10 wheelchair
Features and Benefits:
The BT10 is a bariatric wheelchair that comes with an innovative curved frame design to provide additional stability. There's a dual seat width and depth customization-
| | |
| --- | --- |
| Option 1: | Seat width (22″, 24″, 26″) x Seat depth (18″, 20″) |
| Option 2: | Seat width (26″, 28″, 30″) x Seat depth (22″, 24″) |
This ensures correct positioning at all times. The backrest height also has two options-
| | |
| --- | --- |
| Option 1: | 16″, 17″, 18″(3 levels of adjustment) |
| Option 2: | 18″, 19″, 20″(3 levels of adjustment) |
There are three seat height options-
| | |
| --- | --- |
| Option 1: | 17″, 18″, 19″, three standard levels of adjustment |
| Option 2: | 15.5″, 16.5″, requiring replacement of the rear wheels |
| Option 3: | 17.5″, 18.5″, 19.5″, requiring replacement of front wheels |
This ensures enough leg space. The aluminum seat pan prevents the Hammock Effect and the foldable push bar aids in maneuvering the wheelchair with just one hand. It also helps avoid the pain and fatigue that comes from pushing a wheelchair. Adjustable swing-away footrest attaches and detaches without any tools. The height can be adjusted up to 10 cm. It is also adjustable from the front and back angle, front and back position, upwards and downwards angle, and left and right position.
Pros
This wheelchair can support a whopping 250 kg. It is foldable and thus helps in easy storage and transportation.
Cons
The knee strap above the footrest can be uncomfortable for some.
---
A Guide on How to choose Bariatric Wheelchair
Choosing the right wheelchair is important when you have to spend a major part of your day on it. Improper posture and uncomfortable wheelchairs can be detrimental to the body. Moreover, wheelchairs with a short life can push you towards incurring the unnecessary expenditure.
Here are some points to remember while going for a wheelchair-
???? Your wheelchair should have the capacity to adjust to the weight of a patient. The maximum weight capacity shall usually consider someone who is at least 60 years of age. The maximum weight capacity of a heavy-duty wheelchair is generally determined by the condition of the individual patient or the bariatric wheelchair manufacturer.
???? When selecting a heavy-duty wheelchair, users must see if they require a manual or motorized chair. Manual wheelchairs tend to be more expensive.
???? Cushions on the seat come in three variants-memory foam, gel cushion, and air-inflated cushion depending on the purpose. The first one relieves pressure on the thighs, buttocks, and tailbone also reduces skin issues, the second is for extreme comfort and eliminates stress from pressure points and the third is effective in redistributing weight evenly.
???? Look at the attachment process of the cushion with the wheelchair. It must not skid and should have clips for added comfort.
???? Check if the wheelchair is easy to manage and clean. This can be checked from the seat material, preferably waterproof.
---
Final Verdict On The Top 5 Bariatric Wheelchair
As mentioned above in this article- Top 5 Bariatric Wheelchair, Finding a good quality wheelchair is not tough if you list out your preferences, look for well-reviewed brands and compare some models to reach the decision. Value for money is also a significant factor since not everything that is costly may fit your needs.
---
FAQs