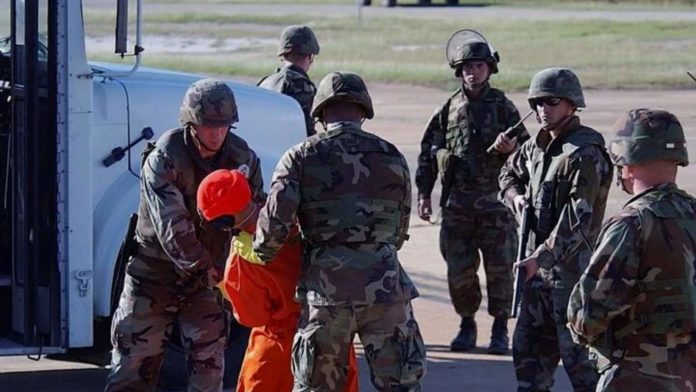 The Pentagon released secret photos from Guantanamo Bay for the first time. These never-before-seen photos show people entering Guantanamo Bay, the US's most famous prison facility. They are wearing shackles and blindfolds as well as ear covers. The New York Times requested the photographs in 2002 under the Freedom of Information Act.
Pentagon Release Secret, Un-Seen Photos Of Guantanamo Bay Detainees Arriving In Shackles!
Some prisoners are blindfolded and also wearing duct tape as they are being taken inside the prison. Another photo shows inmates kneeling in front of authorities as they wait for meals.
In several photographs, army officers carry prisoners wearing their orange uniforms as they make their way to the jail. Daily Mail reports that troops found it easy to transport captives at that time, as many of them were hungry and lost weight quickly.
Another photo shows convicts praying on a mat made by the military. One photo shows a medical institution with several detainees still in handcuffs, resting on hospital beds.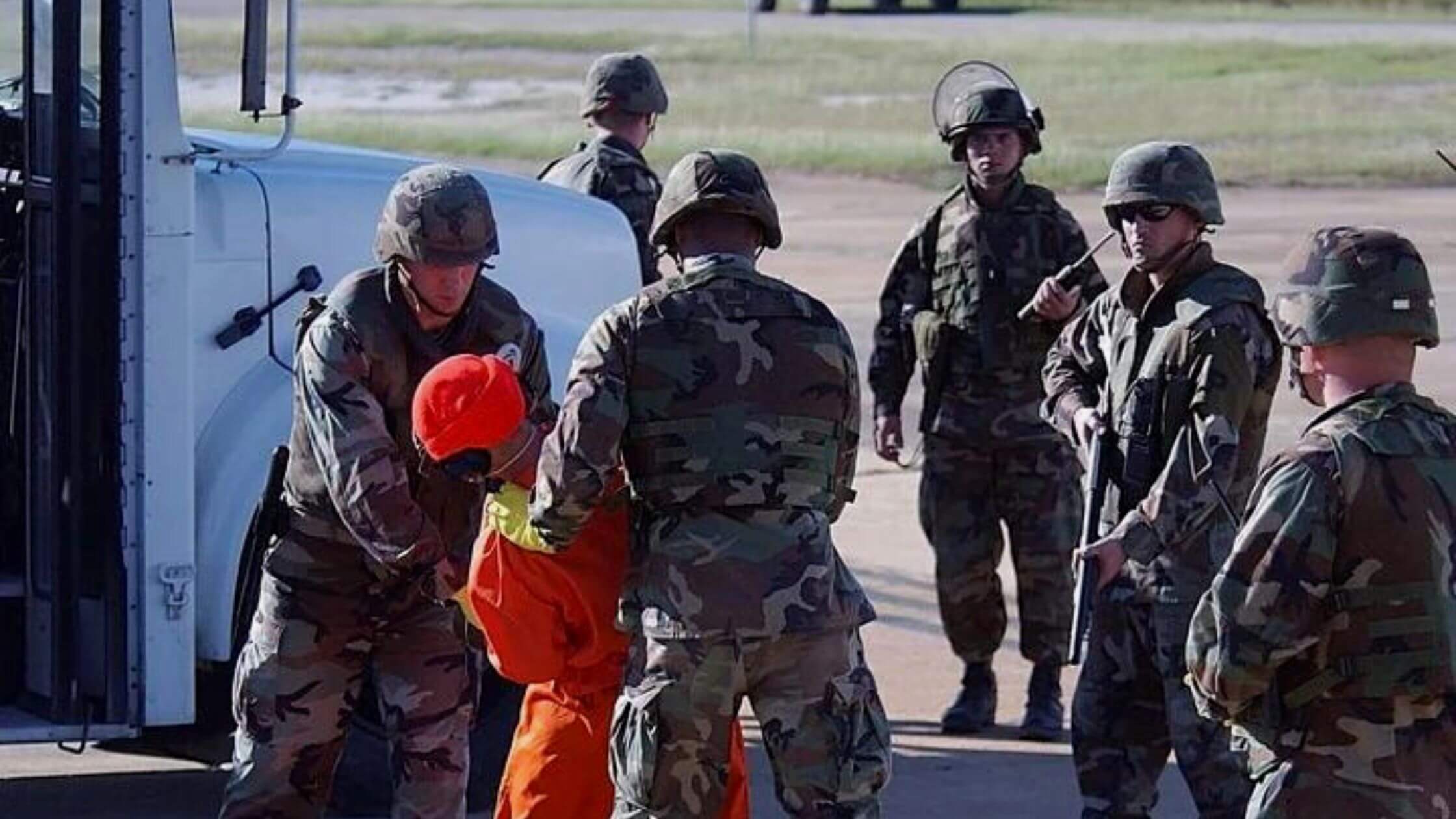 According to The New York Times, this is only the second time that the photos have been published. Wikileaks published its first photographs in 2011. These photographs were taken to give Secretary of Defense Donald Rumsfeld (and other Washington leaders) a glimpse at the beginning of wartime detentions and questioning.
The 2002 photos show several scenes in the controversial jail. None of the detainees shown have been identified or legally recognized. Under George W. Bush's administration, approximately 780 boys and men were transferred to Guantanamo Bay. He called them "the worst of all the worst."
Only 18 of these prisoners have ever been charged, and only five have been convicted. Thirty-five men are currently in prison, 10 of which are still awaiting trial. Despite the fact that the facility was prohibited from being shut down, President Barack Obama's administration reduced the number of detainees.
The Daily Mail reports that 17 Guantanamo convicts are still in prison and will be released. Nine of the remaining inmates have been deemed safe and technically sound enough to be released. Camp X-Ray detainees spend a lot of time praying using a mat provided to them by the army as a rug.
Although none of the soldiers have been identified, a 2002 caption indicates that two of them belonged to the 115th Military Police Battalion. This unit was later sent to Abu Ghraib, which is also controversial.
Fleet Hospital Twenty was the first hospital to treat detainees with various illnesses. On January 11, 2002, the army banned photojournalists from CNN or the Miami Herald, including taking any film. A naval photographer instead took a photo of the 20 first convicts kneeling at Camp X-Ray. This was an early detention camp.
Under President George W. Bush's watch, Gitmo held 780 boys and men. However, only 18 of the people held at Gitmo have been charged, and only five have been convicted.
Thirty-five men remain behind bars, and ten are available for trial. Although President Barack Obama was unable to close Guantanamo prison, subsequent administrations have slowly reduced the number of prisoners.
Read More: