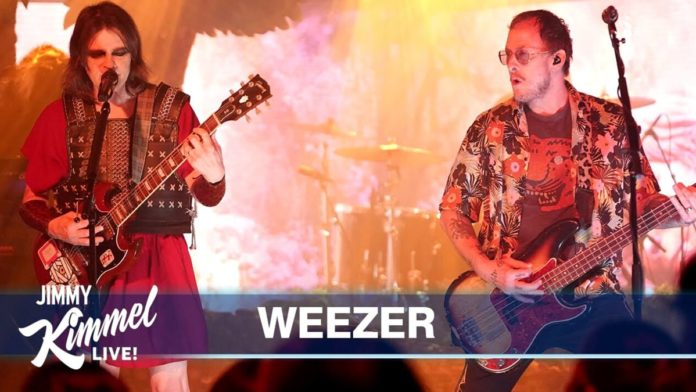 Weezer is not only going to heat up the fall with their first-ever Broadway residency, but they can also help you start off your summer vacation with the most recent installment of their SZNZ series. This week, the band released the seventh in a series of seasonal EPs, SZNZ: Summer, which includes songs like "Lawn Chair," "What's the Good of Being Good," "Cuomoville," "Thank You and Good Night" and a few more that are likely to become summertime favorites.
Weezer Release Their 'SZNZ' EP And Prepare For Their First Broadway Residency
For SZNZ: In Residence on Broadway, the band will set up shop at the Broadway Theater for a week.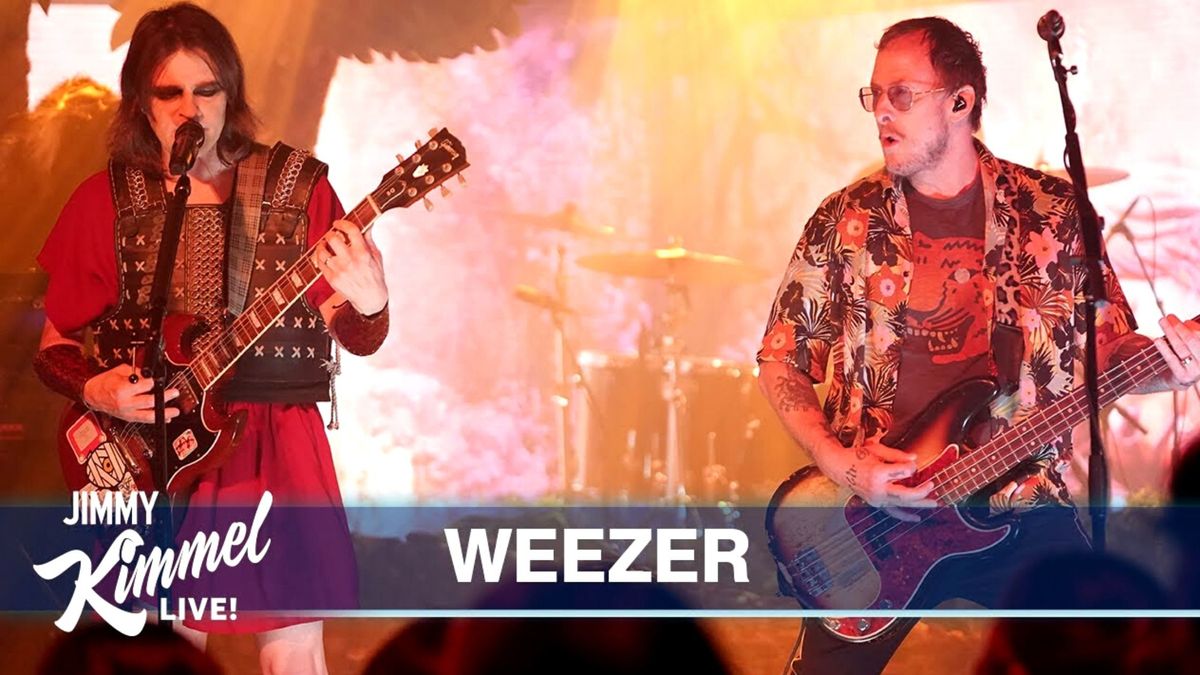 The five-show run will begin on September 13. In addition to "a unique set of Weezer classics" each night, some of which haven't been performed in years, they will of course play songs from each of their SZNZ cycle albums: Spring, Summer (Sept. 14), Autumn (Sept. 16), and Winter (Sept. 17). A fifth night (Sept. 18) is touted as an "encore" performance that will mix songs from both the SZNZ shows and prior nights' crowd favorites. On Friday, June 24, at 10 am, tickets for the residency go on sale.
The SZNZ project began in March with SZNZ: Spring, and as of right now, the residency is scheduled to occur prior to the release of the Autumn (Sept. 23) and Winter (Dec. 21) EPs. The band also performed "Records" live on stage at Jimmy Kimmel Live! On Monday, June 21, singer Rivers Cuomo turned up the heat with dramatic eye makeup, a Roman gladiator tunic, and a leather breastplate. The next scheduled performance for Weezer, who is currently on the Mega Hella tour alongside Green Day and Fall Out Boy, is on Tuesday in Antwerp, Belgium.
American rock group Weezer was founded in 1992 in Los Angeles, California. Rivers Cuomo, Patrick Wilson, Brian Bell, and Scott Shriner have all made up the band since 2001. Weezer released their self-titled debut album, commonly known as the Blue Album, in May 1994 after signing with Geffen Records in 1993. The Blue Album achieved multi-platinum success and was supported by music videos for the hits "Buddy Holly," "Undone – The Sweater Song," and "Say It Ain't So."
Weezer's second album, Pinkerton (1996), which had a darker, more abrasive sound, was a commercial failure and at first, had bad reviews, but over time it developed a cult following and gained praise from critics. The Blue Album and Pinkerton are two albums that are now regularly mentioned when discussing the greatest albums of the 1990s. Weezer took a break after Pinkerton's tour because bassist Matt Sharp had left the group.
Cuomo made a suggestion that the group was working on a four-album box set named SZNS during an interview with NPR discussing the OK Human and Van Weezer albums. As stated, a few albums will be released in 2022.
Weezer made the formal announcement on March 11, 2022, that the project, now known as SZNZ, will feature four extended plays, with Fall becoming Autumn. The lead song, "A Little Bit of Love," was made available on March 16, and the first, SZNZ: Spring, was published on March 20.
Read More